Exciting news for all Dune fanatics out there! The eagerly anticipated second part of the Denis Villeneuve-directed interpretation of Frank Herbert's epic saga, initially postponed from 2023 to 2024, is now hitting the box office sooner than expected. Warner Bros. and Legendary Entertainment have pulled the release date of Dune: Part Two forward by a couple of weeks.
Back in August, unresolved writers and actors strikes pushed the filmmakers to ponder the potential negative consequences of launching one of their major annual titles without its stars' publicity. In light of the strikes' potential longevity, they anticipated the need to postpone numerous other 2023 films, requiring a significant box office sensation to offset the delay. They were especially keen to bounce back from the notorious flops of 2023, such as Shazam! Fury of the Gods, The Flash, and Blue Beetle.
Fortunately, fans of the cult science fiction saga won't have to wait as long to follow the journey of Timothée Chalamet's Paul Atreides. As reported by Deadline, Dune: Part Two's release date is now two weeks earlier, moving from March 15 to March 1st.
Meanwhile, Warner Bros.' remaining 2023 schedule persists as previously planned. Coming productions encompass another film starring Chalamet, Wonka, and adaptations of Aquaman and The Lost Kingdom as well as The Color Purple.
Warner Bros. and Legendary have more blockbusters up their sleeves for the upcoming year. Godzilla x Kong: The New Empire lands in theaters on April 12, while Lord of the Rings: The War of Rohirrim arrives on December 13. Closer to the horizon, in October, the only comic book film of the year, Joker: Folie à Deux, is scheduled for release.
Looking Ahead to Dune: Part Two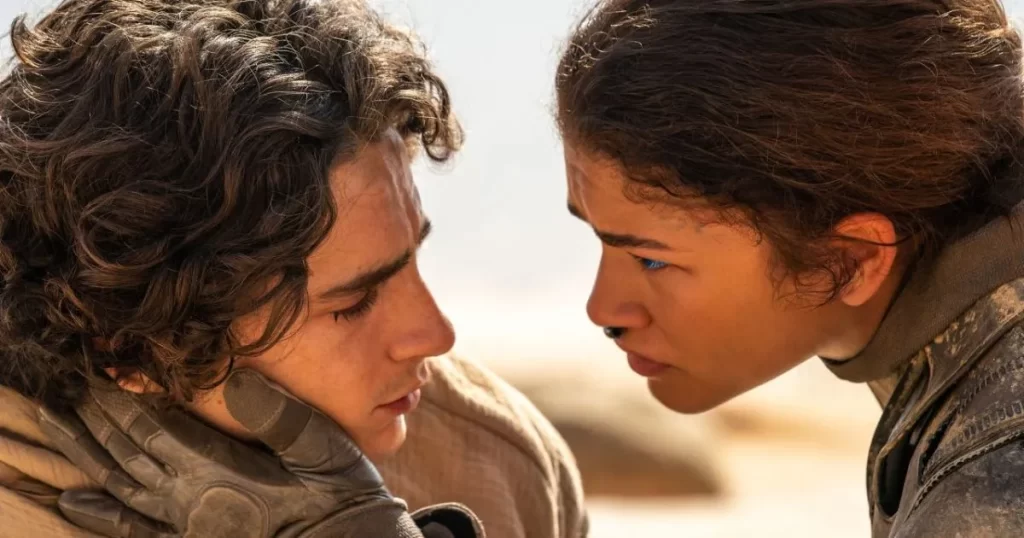 The film will follow the events of the inaugural part, with Paul Atreides collaborating with Chani and the Freemen to seek retribution against those who eliminated his family and his beloved. His journey towards being a hero will be littered with obstacles, where the most critical decision will be choosing between love and an essential life battle.
The cast features Timothée Chalamet, Zendaya, Rebecca Ferguson, Josh Brolin, Stellan Skarsgård, Dave Bautista, Stephen McKinley Henderson, Charlotte Rampling, and Javier Bardem, reprising their previous roles. Alongside the original cast, newcomers Florence Pugh, Austin Butler, Christopher Walken, Léa Seydoux, Souheila Yacoub, and Tim Blake Nelson will join the universe, directed yet again by Villeneuve.
An accompanying spin-off series, Dune: Prophecy, is underway for Max, while Villeneuve has expressed a desire to expand the Dune universe even further, including a third part to the series.
On a side note, if you love movie and TV show collections, don't miss out on exploring HITPLAY! Check out their curated content at https://hitplay.app and discover a world of award-winning cinema!