Dive into this weekend's cinematic and television landscape with our curated guide, "Weekly Shots: Our picks and skips of the weekend." Whether you're in the mood for a surreal black comedy in "Dream Scenario," where Nicolas Cage plays an ordinary man thrust into extraordinary circumstances, or a journey through rock history with "Squaring the Circle," we've got you covered. For those seeking something more poignant, "The Eternal Memory" offers an intimate look at love and memory loss. If musicals are more your beat, "Dicks: The Musical" might just tickle your fancy, though it's not for everyone. "Dumb Money" takes a thrilling dive into the GameStop stock saga, while "birth/rebirth" offers a dark, contemporary spin on the Frankenstein story. David Fincher's "The Killer" brings intrigue and depth for thriller enthusiasts. On the TV front, the satirical "The Curse," the dynamic "Rap Sh!t," and the climactic "Loki" finale are our top picks, while "The Morning Show," "The Buccaneers," and "For All Mankind" round out our selections with varied tales of drama, history, and space exploration. Tune in to your preferred streaming services for these cinematic and television gems! You can check other editions of Weekly Shots here.
Movies
Picks
Dream Scenario (Kristoffer Borgli)
In "Dream Scenario," Kristoffer Borgli presents a surreal and smart black comedy where Nicolas Cage faces an unusual challenge: portraying an extraordinarily normal man, Paul Matthews, a zoology professor. In this story, Paul's mundane life takes a bizarre turn when he starts appearing in strangers' dreams, becoming an overnight sensation for being simply ubiquitous. As he navigates this newfound fame, he tries to leverage it to promote his book on insect psychology, only to face the volatile nature of celebrity. Borgli, with Ari Aster as producer, crafts a tale that satirically examines the ego's transformation under public scrutiny, paralleling films like "Election" and touching on themes of internet culture and the fleeting nature of fame. Featuring Michael Cera and Kate Berlant, the film delves into the absurdities and moral decay that come with seeking exposure, offering a darkly humorous critique of modern celebrity culture.
In theaters now
Squaring the Circle (Anton Corbijn)
In "Squaring the Circle," Anton Corbijn, a renowned photographer and director known for his work on U2's "The Joshua Tree" and films like "Control," "The Americans," and "A Most Wanted Man," delves into the world of iconic rock imagery. The documentary, which premiered at the Telluride Film Festival, explores the influential London-based design agency Hipgnosis, known for their groundbreaking album covers from the late 1960s to the early 1980s. Renowned artists such as Paul McCartney, Peter Gabriel, Led Zeppelin's Robert Plant and Jimmy Page, and Pink Floyd's Roger Waters, David Gilmour, and Nick Mason, all of whom collaborated with Hipgnosis, contribute their stories to the film. Hipgnosis's creative genius is showcased through their famous works like Pink Floyd's "The Dark Side of the Moon" and Led Zeppelin's "Houses of the Holy," marking a defining era in rock history.
Streaming on Netflix
The Eternal Memory (Maite Alberdi)
In "The Eternal Memory," directed by Maite Alberdi, viewers are drawn into the intimate world of Augusto Góngora, a journalist who documented Chile's Pinochet regime, and his wife, actress Paulina Urrutia, as they navigate his Alzheimer's disease. This poignant documentary, streaming on Paramount+, captures Góngora's gradual disorientation and the couple's profound love story. With over 40 hours of footage, including personal captures by Urrutia, the film portrays Góngora's vibrant past and his present struggles, from getting confused by his reflection to his wife's unyielding support and attempts to revive his memories. The film also touches on Chile's collective memory of the Pinochet era, drawing a parallel to Góngora's fading recollections. Awarded the Grand Jury Prize at Sundance, Góngora's story, culminating in his passing in May, leaves a legacy of how to live with dignity and love deeply, even as memory fades.
Streaming on Paramount+
Dicks: The Musical (Larry Charles)
With Dicks: The Musical, viewers get a mix of audacious humor and musical theatrics. However, the film's reliance on crude jokes and substandard musical numbers may not resonate with everyone. It's an adventurous watch that's worth checking out for its novelty and Nathan Lane's involvement, but it might not strike the right chord for all audiences.
Streaming on VOD
Dumb Money (Craig Gillespie)
Craig Gillespie's Dumb Money plunges into the frenzied world of the GameStop stock phenomenon with a speed that mirrors the event itself. The film oscillates between a surreal retelling and a nuanced critique of the American financial system, underlining the perpetual imbalance in the world of finance. While it adeptly captures the spirit of rebellion against economic giants, it falls short of dissecting the aftermath of such a populist uprising. Nonetheless, as a cinematic time capsule, it encapsulates the fervor and the futility felt by many during this modern-day David versus Goliath story.
Streaming on VOD
birth/rebirth (Laura Moss)
In birth/rebirth, the classic tale of Frankenstein is revisited through a contemporary lens, delivering a tale that is both darkly comical and emotionally gripping. The film boasts outstanding performances by Judy Reyes and Marin Ireland, whose characters are intricately woven into a narrative about life, death, and the eerie possibility of rebirth. This body horror flick impresses with its ability to convey a vast and haunting tale within a claustrophobic setting.
Streaming on AMC+/Shudder
The Killer (David Fincher)
David Fincher returns with The Killer, a film that follows the perilous journey of a hitman whose latest job spirals into chaos. This narrative may tread familiar ground, but Fincher's stylistic flair and potential personal reflections infuse the film with intrigue. While it might divide critics, The Killer is undeniably a film that invites its audience to delve into the shadowy psyche of its protagonist, offering a rich experience for those willing to engage with its layers.
Streaming on Netflix
Skips
Foe (Garth Davis)
In Foe, Garth Davis tackles the enigmatic terrain of science fiction, weaving a tale of isolation and mystery around Paul Mescal and Saoirse Ronan's characters. This adaptation of Iain Reid's novel is an intricate dance of concealment and revelation, presenting a visually stunning narrative that, despite its ambition, doesn't quite achieve narrative cohesion. The performances, however, are undeniably potent, offering a silver lining to a film that could have benefited from a more even-handed approach to its storytelling.
Streaming on VOD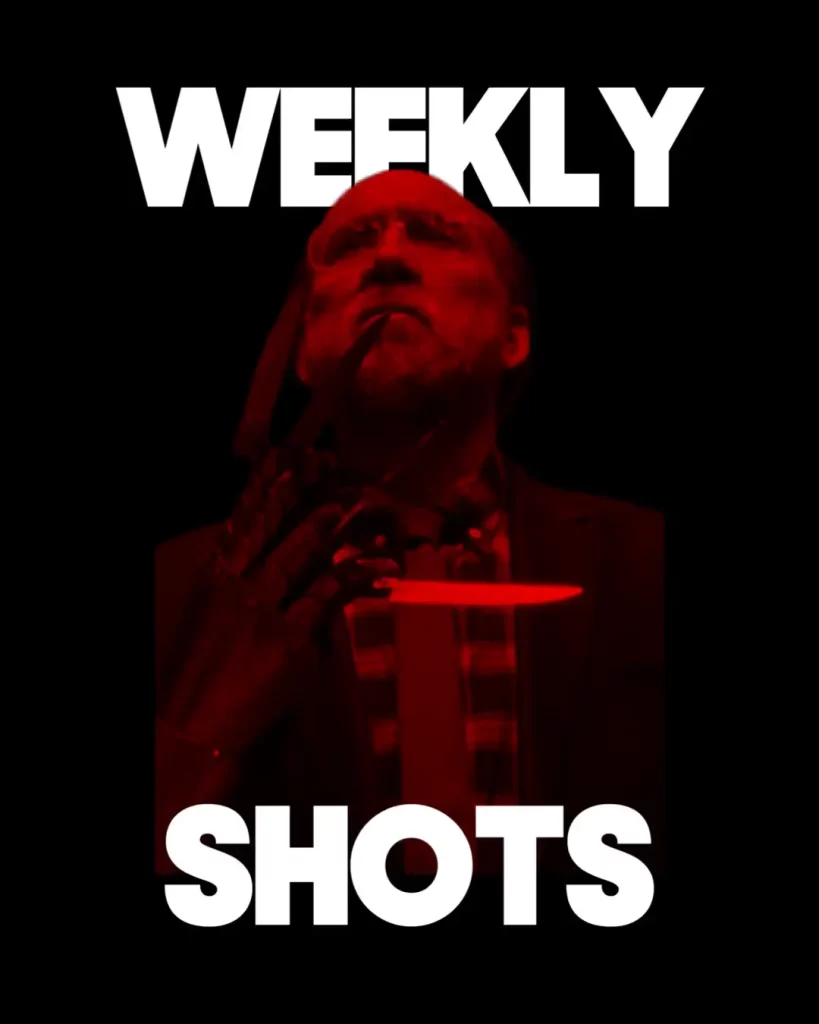 TV
Picks
The Curse (Limited Series)
"The Curse," a Showtime limited series created by Nathan Fielder and Benny Safdie, offers a satirical glimpse into the world of reality TV through the lens of a home-renovation series. Starring Emma Stone as Whitney and Fielder as Asher, the show follows their journey as they attempt to revitalize Española, New Mexico, with their environmentally sustainable designs, all while dealing with their own personal and marital struggles. Safdie plays Asher's chaotic friend Dougie, adding to the turmoil. The series explores themes of performative altruism and liberal hypocrisy, with the couple's efforts often appearing hollow and self-serving. It also delves into cultural and social issues, contrasting the authenticity of its diverse cast against the main characters' superficiality. Directed by Fielder and the Zellner brothers, "The Curse" presents a critical and often uncomfortable reflection of reality TV voyeurism, challenging viewers with its complex portrayal of flawed characters and societal commentary.
Streaming on Showtime
Rap Sh!t (Season 2)
Season 2 of "Rap Sh!t," Issa Rae's successor to "Insecure," kicks off on Max with a continuation of Shawna and Mia's journey, now accompanied by a tour and a new set of challenges. This season sees the Miami rap duo, played by Aida Osman and KaMillion, and their manager Chastity (Jonica Booth), grappling with being mere supporting acts on tour, starkly highlighting the realities of the music industry. The show retains its knack for peeling back the glamor of the rap world, depicting the compromises and sacrifices necessary for success. However, this season shifts focus from the vibrant energy of Miami to more character-driven drama, exploring individual motivations and the strain on Shawna and Mia's friendship. Despite some loss in comedic momentum, the series remains an engaging portrayal of the struggles of up-and-coming female rappers. Booth, as Chastity, stands out for her portrayal of a manager fighting for respect and recognition in the industry. While season two delves deeper into the characters' lives and challenges, it slightly misses the lighter tone of its predecessor, leaving viewers hopeful for a return of the series' original spirit in future episodes.
Streaming on Max
Loki (Season 2 Finale)
The season 2 finale of "Loki" on Disney Plus marks a thrilling culmination of the series' complex narrative. Tom Hiddleston, reprising his role as Loki, discovers that his time manipulation issues could actually be harnessed as a formidable power. This realization comes on the heels of a particularly gripping episode where Loki learns he can prevent the unraveling of realities, effectively acting as a guardian of time. In this final episode, Loki embraces a new, noble mission to repair time itself, aided by Sylvie, Mobius, OB, and others. The stakes are high as they strive to save countless existences from potential chaos. This finale promises to be a blend of action, drama, and the signature wit that has made "Loki" a standout in the Marvel Cinematic Universe.
The Morning Show (Season 3 Finale)
Season 3 of The Morning Show embraces a wild approach, throwing a myriad of elements at its audience — from space rockets to a Jon Hamm-esque handsome billionaire, alongside the Jan. 6 insurrection, racial tensions, moral dilemmas, and even Cory's mom. It's a blend of the absurd and the engaging. In its finale, the show promises to resolve the numerous plot threads woven throughout the season: the fate of UBA amidst Jon Hamm lookalike Paul Marks' potential buyout, Cory's efforts to save the company, Alex's realization of Paul's dubious nature, and Bradley's legal troubles stemming from her brother's actions. It's all set up for an explosive conclusion.
Streaming on Apple TV Plus.
Skips
The Buccaneers (Season 1 Premiere)
"The Buccaneers," premiering on Apple TV+, eagerly courts "Bridgerton" fans with its mix of corsets, contemporary music, and a tale of Americans mingling with London's high society. Based on Edith Wharton's unfinished novel, this mildly watchable series seems to follow the streaming trend of imitating popular hits. Set in the 1870s, it narrates the story of Americans attending Conchita's (Alisha Boe) wedding in London, showcasing their brashness against British norms. The focus is on Nan St. George (Kristine Frøseth) and her sister Jinny (Imogen Waterhouse), exploring themes of independence and romance amidst societal expectations. With debutante balls, secrets, and moments of youthful exuberance, the series blends historical drama with a feminist touch, even as it risks clichés with its portrayal of characters' self-absorption and familiar tropes. "The Buccaneers" offers a visually appealing, soapy escape for viewers seeking light entertainment, albeit with a somewhat tepid endorsement for its overt attempt to replicate "Bridgerton's" success.
Streaming on Apple TV+.
For All Mankind (Season 4)
Season 4 of "For All Mankind," premiering on Apple TV+ on November 10, marks a departure from the show's earlier brilliance. Ronald D. Moore's series, once a riveting space odyssey set in an alternate history, now stumbles into soap opera territory, losing much of its space-centric thrill. The narrative, advancing to the early 2000s, shifts focus from cosmic exploration to personal dramas of its characters, both old and new. Mars, the new frontier in this season, is portrayed more as an Earth replica, dominated by capitalism and nationalism rather than scientific discovery. The gripping storytelling of previous seasons, like the lunar surface adventures or the heart-wrenching sacrifices on the moon, seems to have faded. Even though the visuals remain impressive, the series struggles to maintain a balance between its character-driven drama and the sense of interstellar adventure, resulting in a lack of tension and excitement in the first seven episodes.
Streaming on Apple TV+
You can check other editions of Weekly Shots here.