As Valentine's Day approaches, it's the perfect time to reflect on love, heartbreak, and everything in between. This holiday often evokes feelings of nostalgia and longing, reminding us of past relationships and the ups and downs that come with love. Whether you're looking to indulge in a good cry or find inspiration for your own love life, these films about heartbreak, breakups, and makeups are sure to do the trick. This collection is pretty offbeat, arthouse and indie oriented. You'll find some big studio releases here and there, but we're trying to give you something other than the beaten dead horse choices you'll find elsewhere.
Also: this is a small sample of all the titles in this collection. To see them all go here and find out where you can stream them as well.

Blue Jay
Meeting by chance when they return to their tiny California hometown, two former high-school sweethearts reflect on their shared past.
Portrait of a Lady on Fire
On an isolated island in Brittany at the end of the eighteenth century, a female painter is obliged to paint a wedding portrait of a young woman.
Waiting to Exhale
Cheated on, mistreated and stepped on, the women are holding their breath, waiting for the elusive "good man" to break a string of less-than-stellar lovers. Friends and confidants Vannah, Bernie, Glo and Robin talk it all out, determined to find a better way to breathe.
Annie Hall
New York comedian Alvy Singer falls in love with the ditsy Annie Hall.
Like Crazy
A British college student falls for an American student, only to be separated from him when she's banned from the U.S. after overstaying her visa.
Take This Waltz
Twenty-eight-year-old Margot is happily married to Lou, a good-natured cookbook author. But when Margot meets Daniel, a handsome artist who lives across the street, their mutual attraction is undeniable.
Brooklyn
In 1950s Ireland and New York, young Eilis Lacey has to choose between two men and two countries.
An Unmarried Woman
A wealthy woman from Manhattan's Upper East Side struggles to deal with her new identity and her sexuality after her husband of 16 years leaves her for a younger woman.
Tiny Furniture
After graduating from film school, Aura returns to New York to live with her photographer mother, Siri, and her sister, Nadine, who has just finished high school. Aura is directionless and wonders where to go next in her career and her life. She takes a job in a restaurant and tries unsuccessfully to develop relationships with men, including Keith, a chef where she works, and cult Internet star Jed.
Carol
In 1950s New York, a department-store clerk who dreams of a better life falls for an older, married woman.
How Stella Got Her Groove Back
Through good times and bad, Stella and Delilah have always had each other. Now, Stella's so busy building a life that she's forgotten how to really live. But Delilah is about to change all that. What starts as a quick trip to Jamaica, end as an exhilarating voyage of self discovery as Stella learns to open her heart and find love – even if it's with a man 20 years her junior.
A Separation
A married couple are faced with a difficult decision – to improve the life of their child by moving to another country or to stay in Iran and look after a deteriorating parent who has Alzheimer's disease.
The Last Picture Show
High school seniors and best friends, Sonny and Duane, live in a dying Texas town. The handsome Duane is dating a local beauty, while Sonny is having an affair with the coach's wife. As graduation nears and both boys contemplate their futures, Duane eyes the army and Sonny takes over a local business. Each struggles to figure out if he can escape this dead-end town and build a better life somewhere else.
Always Be My Maybe
Reunited after 15 years, famous chef Sasha and hometown musician Marcus feel the old sparks of attraction but struggle to adapt to each other's worlds.
The Lobster
In a dystopian near future, single people, according to the laws of The City, are taken to The Hotel, where they are obliged to find a romantic partner in forty-five days or are transformed into animals and sent off into The Woods.
Crazy Rich Asians
An American-born Chinese economics professor accompanies her boyfriend to Singapore for his best friend's wedding, only to get thrust into the lives of Asia's rich and famous.
Things to Come
Nathalie teaches philosophy at a high school in Paris. She is passionate about her job and particularly enjoys passing on the pleasure of thinking. Married with two children, she divides her time between her family, former students and her very possessive mother. One day, Nathalie's husband announces he is leaving her for another woman. With freedom thrust upon her, Nathalie must reinvent her life.
Naz & Maalik
Two closeted Muslim teens hawk goods across Brooklyn and struggle to come clean about their sexuality, as their secretive behavior leads them unknowingly into the cross-hairs of the War on Terror.
Show Me Love
Åmål is a small insignificant town where nothing ever happens, where the latest trends are out of date when they get there. Young Elin has a bit of a bad reputation when it comes to guys, but the fact is that she has never done it. Another girl in her school, Agnes, is in love with her but is too shy to do anything about it. For different reasons, Elin ends up at Agnes' birthday party as the only guest. They have a girl's night out together but after that Elin desperately avoids Agnes, refusing to even consider her own homosexuality.
Appropriate Behavior
For Shirin, being part of a perfect Persian family isn't easy. Acceptance eludes her from all sides: her family doesn't know she's bisexual, and her ex-girlfriend, Maxine, can't understand why she doesn't tell them. Even the six-year-old boys in her moviemaking class are too ADD to focus on her for more than a second. Following a family announcement of her brother's betrothal to a parentally approved Iranian prize catch, Shirin embarks on a private rebellion involving a series of bisexual escapades, while trying to decipher what went wrong with Maxine.
Tangerine
It's Christmas Eve in Tinseltown and Sin-Dee is back on the block. Upon hearing that her pimp boyfriend hasn't been faithful during the 28 days she was locked up, the working girl and her best friend, Alexandra, embark on a mission to get to the bottom of the scandalous rumor. Their rip-roaring odyssey leads them through various subcultures of Los Angeles, including an Armenian family dealing with their own repercussions of infidelity.
Set It Off
Four black women, all of whom have suffered for lack of money and at the hands of the majority, undertake to rob banks. While initially successful, a policeman who was involved in shooting one of the women's brothers is on their trail. As the women add to the loot, their tastes and interests begin to change and their suspicions of each other increase on the way to a climactic robbery.
Frances Ha
An aspiring dancer moves to New York City and becomes caught up in a whirlwind of flighty fair-weather friends, diminishing fortunes and career setbacks.
Mauvais Sang
Two aging crooks are given two weeks to repay a debt to a woman named The American. They recruit their recently deceased partner's son to help them break into a laboratory and steal the vaccine against STBO, a sexually transmitted disease that is sweeping the country. It's spread by having sex without emotional involvement, and most of its victims are teenagers who make love out of curiosity rather than commitment.
Solaris
A psychologist is sent to a space station orbiting a planet called Solaris to investigate the death of a doctor and the mental problems of cosmonauts on the station. He soon discovers that the water on the planet is a type of brain which brings out repressed memories and obsessions.
She's Gotta Have It
The story of Nola Darling's simultaneous sexual relationships with three different men is told by her and by her partners and other friends. All three men wanted her to commit solely to them; Nola resists being "owned" by a single partner.
The One I Love
On the brink of separation, Ethan and Sophie escape to a beautiful vacation house for a weekend getaway in an attempt to save their marriage. What begins as a romantic and fun retreat soon becomes surreal, when an unexpected discovery forces the two to examine themselves, their relationship, and their future.
Love, Simon
Everyone deserves a great love story. But for seventeen-year-old Simon Spier it's a little more complicated: he's yet to tell his family or friends he's gay and he doesn't know the identity of the anonymous classmate he's fallen for online.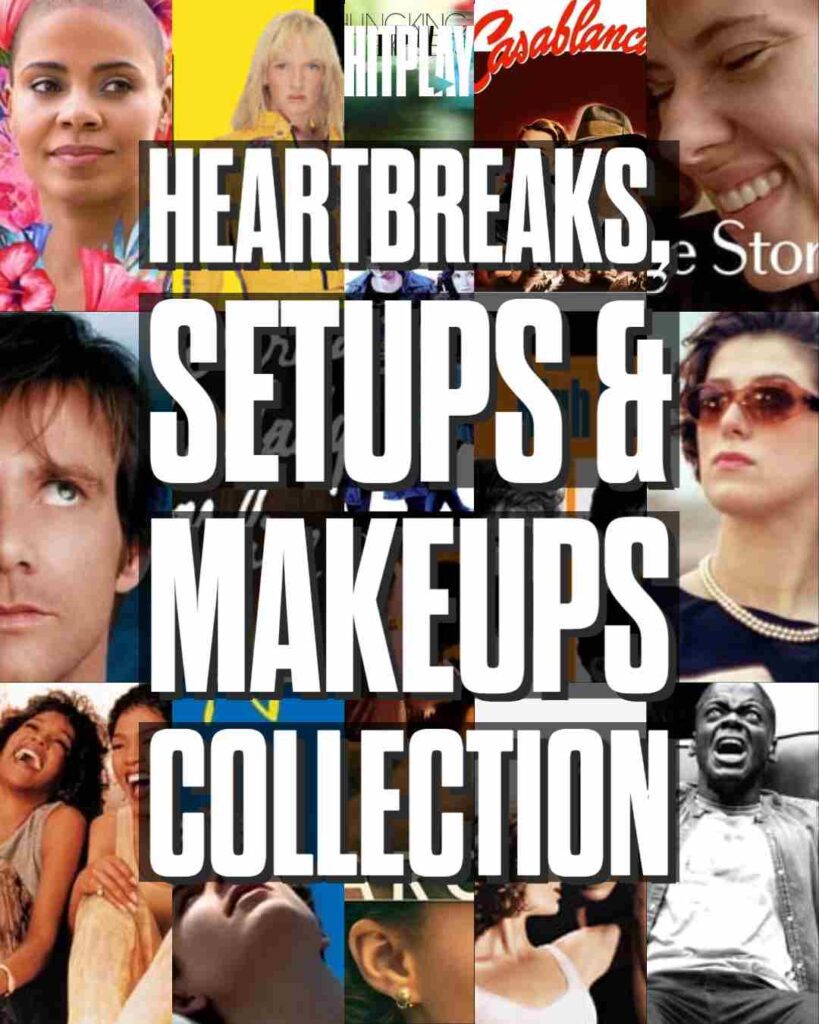 Moonlight
The tender, heartbreaking story of a young man's struggle to find himself, told across three defining chapters in his life as he experiences the ecstasy, pain, and beauty of falling in love, while grappling with his own sexuality.
Sleeping with Other People
Can two serial cheaters get a second chance at love? After a one-night stand in college, New Yorkers Lainey and Jake meet by chance twelve years later and discover they each have the same problem: because of their monogamy-challenged ways, neither can maintain a relationship. Determined to stay friends despite their mutual attraction, they make a pact to keep it platonic, a deal that proves easier said than done.
What Time Is It There?
When a young street vendor with a grim home life meets a woman on her way to Paris, they forge an instant connection. He changes all the clocks in Taipei to French time, as he watches François Truffaut's Les 400 Coups; she has a strange encounter with its now-aging star, Jean-Pierre Leaud.
Her
In the not so distant future, Theodore, a lonely writer, purchases a newly developed operating system designed to meet the user's every need. To Theodore's surprise, a romantic relationship develops between him and his operating system. This unconventional love story blends science fiction and romance in a sweet tale that explores the nature of love and the ways that technology isolates and connects us all.
Obvious Child
An immature, newly unemployed comic must navigate the murky waters of adulthood after her fling with a graduate student results in an unplanned pregnancy.
The Big Sick
Pakistan-born comedian Kumail Nanjiani and grad student Emily Gardner fall in love but struggle as their cultures clash. When Emily contracts a mysterious illness, Kumail finds himself forced to face her feisty parents, his family's expectations, and his true feelings.
The Graduate
Benjamin, a recent college graduate very worried about his future, finds himself in a love triangle with an older woman and her daughter.
The Incredible Jessica James
Burned by a bad breakup, a struggling New York City playwright makes an unlikely connection with a divorced app designer she meets on a blind date.
Medicine for Melancholy
Waking from a one-night stand that neither remembers, Micah and Joanne find themselves wandering the streets of San Francisco, sharing coffee and conversation and searching for a deeper connection.