This past September painted a different portrait for Marvel Studios than we've come to expect. Gone were the smiles and air of invincibility that typically color the company's annual retreat in Palm Springs. Studio chief Kevin Feige and his team were grappling with a series of crises, ranging from disappointing screen performances and a major legal quagmire to questions about the feasibility of their streaming strategy.
The Jonathan Majors Conundrum
The most pressing issue hanging over the room was the fate of Jonathan Majors, according to a Variety feature. The actor, who had been tapped to spearhead the next chapter in the Marvel Cinematic Universe, is now entangled in a high-profile domestic violence trial set to commence in New York. Although Majors maintains he is the victim, the mounting negative press and the looming court battle have Marvel reevaluating its decision to build its next lineup around his character, Kang the Conqueror.
During their meeting, Marvel execs brainstormed alternative strategies, including shifting the narrative focus to other formidable foes like Dr. Doom. Yet, pivoting at this stage isn't so simple. Majors' influence is already deeply woven into the fabric of the MCU; he played a pivotal role in "Ant-Man and the Wasp: Quantumania" released in February and has been built up as the next big bad in the latest season of "Loki," which concludes on November 9.
Industry Perspectives on the Kang Dilemma
One high-ranking dealmaker who previewed the final episode of "Loki" did not mince words: "Marvel is truly fucked with the whole Kang angle." It's worth noting that a rewrite hasn't been possible until now, owing to the WGA strike. Even with that obstacle removed, the path forward seems unclear.
'The Marvels' and Box Office Uncertainty
If the Jonathan Majors predicament wasn't stressful enough, Marvel also has to deal with the upcoming release of "The Marvels," the follow-up to the 2019 smash hit "Captain Marvel." Plagued by extended reshoots, the sequel is now poised for a lackluster box office performance, adding to Marvel's growing list of woes.
A Series of Unfortunate Events for Marvel
This sequence of setbacks is an anomaly for Marvel, a studio that has had a virtually unbroken chain of successes since its first self-produced film, "Iron Man," in 2008. The studio reached its zenith with the $2.8 billion earnings from 2019's "Avengers: Endgame," contributing to a staggering total of nearly $30 billion across 32 films.
The Overarching Problem: A Flood of Content
Marvel's current troubles can be traced back to 2020 when the COVID-19 pandemic led to an aggressive strategy to keep Disney's stock prices buoyant. The strategy entailed inundating viewers with an unbroken stream of Marvel-related content via Disney+. While this did prevent any gaps in the Marvel-themed programming, it led to an overload of content that taxed both the studio's resources and audience's patience, resulting in a narrative that was harder to follow.
The Marvel Conundrum: Quantity vs Quality
As Wall Street analyst Eric Handler, who covers Disney, points out, "The Marvel machine was pumping out a lot of content. Did it get to the point where there was just too much, and they were burning people out on superheroes? It's possible." Handler's observation strikes at the heart of a dilemma many franchises face: The quest for quantity often sacrifices quality. With Marvel's focus on introducing newer characters like Shang-Chi and the Eternals, the results have been uneven. "With budgets as big as these, you need home runs," Handler adds.
'The Marvels' Struggles to Meet Box Office Expectations
"The Marvels," set to release on November 10, faces a steep uphill battle at the box office. Produced at the staggering cost of $250 million and featuring Brie Larson back as Captain Marvel, the film is projected to rake in only $75 million-$80 million in its opening weekend. To put that in perspective, last year's "Doctor Strange in the Multiverse of Madness" hauled in $185 million domestically in its debut.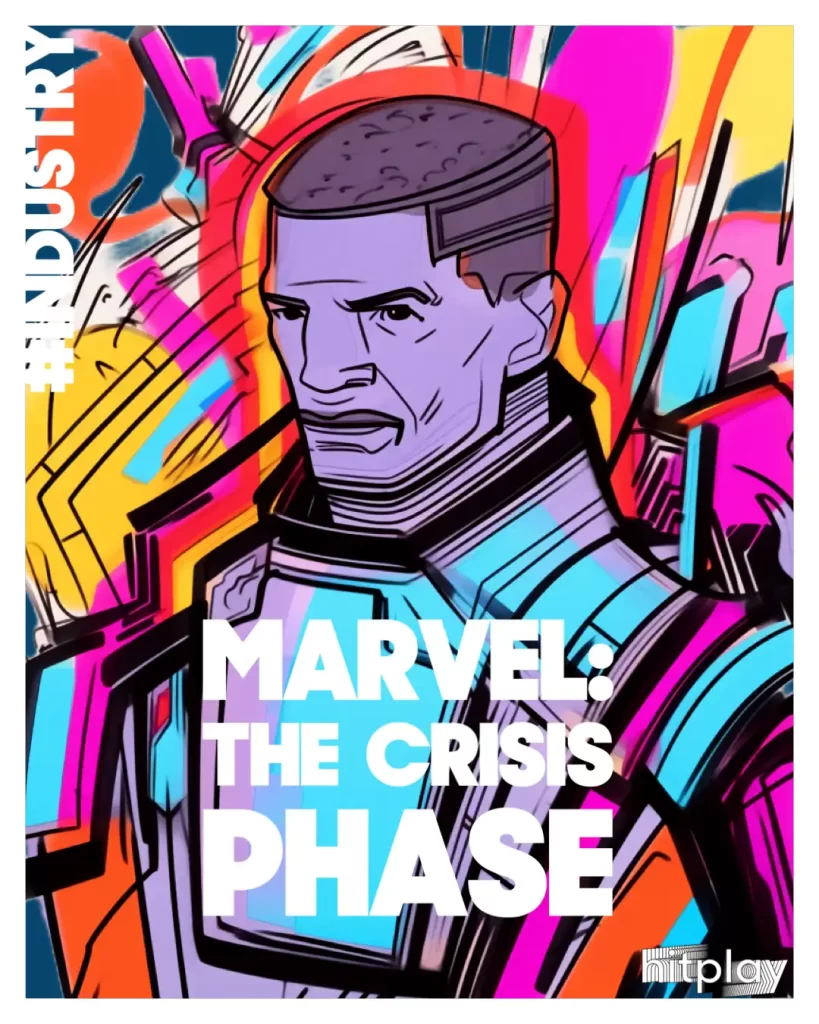 Directed by Nia DaCosta, "The Marvels" brings together three powerful characters: Larson's Captain Marvel, Teyonah Parris' Monica Rambeau (previously seen in "WandaVision"), and Iman Vellani's Kamala Khan (introduced in the "Ms. Marvel" series). However, this ambitious trifecta led to a convoluted plot, necessitating a four-week reshoot.
Nia DaCosta's Double Duty Raises Concerns
Adding to the growing list of concerns was DaCosta's decision to work on another project—Tessa Thompson's drama "Hedda"—while "The Marvels" was still in post-production. A source familiar with the situation expressed surprise, stating, "If you're directing a $250 million movie, it's kind of weird for the director to leave with a few months to go."
Changing Release Dates and Public Screenings
"The Marvels" saw its release date moved not once but twice. Initially, the shift was made to swap positions with "Quantumania," and later to allow more time for refining the film. Marvel, traditionally secretive about their projects, even held an unusual public test screening in Texas, only to receive lukewarm reviews.
Is Kevin Feige Spread Too Thin?
Despite Marvel's challenges, if there's anyone who could turn things around, it's Kevin Feige, Marvel's studio chief. However, even he appears to be feeling the pressure. "Kevin's real superpower, his genius, has always been in post-production and getting his hands on movies and making sure that they finished strongly," says a source familiar with the matter. But with an expanding universe and growing challenges, even Feige has his limits.
All these issues point to a Marvel Universe at a crossroads. With challenges coming from multiple directions, the question becomes: Can Marvel sustain its cinematic universe without sacrificing the quality that made it a blockbuster franchise in the first place?
The Strain Behind Marvel's VFX: A Tipping Point for the Industry?
Marvel's insatiable appetite for content creation is starting to show signs of stretching its resources thin. The extent of the strain became glaringly evident this past February during the world premiere of "Quantumania." Reports of hurriedly added and out-of-focus VFX scenes left many in the industry stunned. "It was insane. I've never seen something like that in my entire career," remarked one veteran power broker who attended the premiere.
When Rushed Timelines Lead to Subpar Visual Effects
The accelerated schedule left the sequel to "Ant-Man" with just over four months for post-production. While Marvel has a reputation for last-minute finishes, the unfinished state of "Quantumania" was unprecedented. The film received scathing reviews upon its release, just 11 days after its premiere, affecting its $200 million budget gamble.
Marvel VFX Workers Unionize
The stress and untenable working conditions finally led to action in September, when Marvel's VFX workers voted unanimously to unionize. Anna George, a former Marvel Studios VFX assistant coordinator, even testified before the Congressional Labor Caucus about the "completely unsustainable" conditions. "The pay and long hours at Marvel were the reason we had to start our unionization process there," she said.
Top Brass at Disney Concerned
Disney's top-level executives, including the newly returned CEO Bob Iger, were said to be extremely concerned about Marvel's VFX struggles. Subsequently, Victoria Alonso, who oversaw the studio's VFX among other responsibilities, was abruptly fired. Although the cited reason was her unauthorized role as an executive producer on the Oscar-nominated film "Argentina, 1985," insiders claim that the firing had more to do with plummeting quality control at Marvel, especially on the TV front.
Scripting Issues: The Root of the Problem?
Some sources argue that Alonso was made a scapegoat and point to deeper issues within Marvel's system—particularly poor oversight on script development. Case in point: the changes made to "She-Hulk" which saw the VFX team scrambling to fix what should have been addressed in preproduction. "The so-called bad VFX we see was because of half-baked scripts," said one person involved with "She-Hulk."
Marvel's Financial Drain
Despite these glaring issues, Marvel's productions continue to be exorbitant. For instance, a single episode of "She-Hulk" cost around $25 million—surpassing even the final-season episodes of HBO's "Game of Thrones." And yet, the return on investment, at least in terms of capturing the public's imagination, seems to be diminishing.
A Franchise at a Crossroads
The issues at Marvel go beyond merely meeting deadlines or fixing special effects. The real crisis appears to be systemic, starting with a frenetic production pace that doesn't allow for adequate pre-production or post-production time, and trickling down to a beleaguered workforce and diminished quality. With increasing financial commitments and dwindling returns, both in terms of quality and public reception, Marvel finds itself at a critical juncture.
The Unravel of Marvel
The Marvel Cinematic Universe, often touted as a benchmark for quality and consistency in Hollywood, seems to be showing signs of stress fractures. From missteps in VFX to worker strikes and scheduling issues, the multi-billion dollar franchise appears to be struggling to keep up with its ever-expanding ambitions.
A Web of Challenges and Missteps
Remember the stunned silence when shoddy CGI effects dominated the screen during the premiere of "Ant-Man and the Wasp: Quantumania"? If you were at the Regency Village Theatre in Westwood this past February, you might have heard the collective gasp. Delays in the movie's post-production schedule left glaring visual errors that even the least discerning viewers could spot.
The Burden on Marvel's VFX Crew
But it's not just about one film. The rushed timelines and expanding universe are taking a toll on Marvel's VFX teams, pushing them to the brink. In September, workers voted to unionize, triggering an industry-wide conversation about labor practices in Hollywood.
The Human Cost Behind the Scenes
Anna George, a former Marvel Studios VFX assistant coordinator, testified before the Congressional Labor Caucus, highlighting how unsustainable conditions had led to the move toward unionization. While Marvel has been known for cinematic grandeur, the cost is becoming increasingly evident — both financially and humanely.
Disney's Leadership Is Fuming
Bob Iger, who has returned as CEO, and the rest of Disney's top brass are said to be furious over these issues. Victoria Alonso, previously overseeing various production aspects at Marvel, was unceremoniously fired, underlining the gravity of the situation. But some insiders suggest she was merely a scapegoat for more systemic issues, including poor script development, as was evident in shows like "She-Hulk: Attorney at Law."
Are Fans Losing Interest?
The quality lapses aren't going unnoticed by the audience. Joanna Robinson, a writer and podcaster at The Ringer, notes that Marvel's pull has declined significantly compared to its peak in 2019. The brand, once synonymous with quality, is facing growing skepticism.
A Blade Too Dull?
Marvel's "Blade" reboot, starring Mahershala Ali, offers another case in point. The project has been a revolving door for writers and directors, undergoing one shutdown and multiple rewrites.
Financial Strains
Even as it spends upwards of $25 million per episode for series like "She-Hulk," Marvel is rethinking its big-spending strategy. Speculation is rife that the "Blade" reboot will now be produced on a budget less than $100 million.
Future Course Correction
With the quality and financial challenges mounting, Marvel is contemplating dramatic shifts, including an "Avengers" revival with Robert Downey Jr.'s Iron Man and Scarlett Johansson's Black Widow. However, this could be an expensive gamble.
Legal Hurdles and Casting Woes
Actor Jonathan Majors, initially envisioned to lead a new phase of Marvel movies, is embroiled in legal issues that have put a strain on upcoming productions. This adds another layer of complexity to Marvel's growing list of problems.
Is This the Beginning of the End?
For an empire built on impeccable planning and execution, the recent snafus are worrisome. Could this be an early sign that the Marvel Universe is beginning to unravel? Only time will tell. But one thing is certain: a course correction is urgently needed if Marvel wants to maintain its dominant position in pop culture.
Curious about what other shifts are happening in the movie and TV industry? Explore our curated collections on hitplay.app to keep yourself updated.