SPOILERS AHEAD FINAL WARNING
Overview
Christopher McQuarrie, director of "Mission: Impossible – Dead Reckoning Part One" discloses that star Tom Cruise wore a wig in some scenes because of reshoots.
The film was shot concurrently with "Mission: Impossible – Dead Reckoning Part Two," where Cruise has longer hair.
The franchise often needs to reshoot scenes or make alterations as characters and plotlines evolve during and post-production.
McQuarrie has recently revealed in the 'Empire Spoiler Specials' podcast that there are numerous scenes in which Cruise dons a wig due to rescheduling for reshoots. As a part of the popular action franchise, "Mission: Impossible – Dead Reckoning Part One" sees Cruise return as Ethan Hunt, this time battling an AI adversary. Although the film showcases some of Cruise's most daredevil stunts yet, the real shocker could be hidden in Cruise's hair — or rather, lack of it.
According to McQuarrie, the back-to-back filming of the first and second parts resulted in Cruise having to wear a wig for some scenes. The director doesn't spill the beans about every instance when the wig was used, however, he does share that it was featured in at least two crucial moments.
McQuarrie's Revealing Comments
"The one I absolutely love is Ethan and Hailey [Atwell] when he says goodbye to her at the end. And she says, 'Go.' That shot was shot two years later than the shots on either side of it. Originally they had a different piece of behavior that, in the course of the new ending of the movie, it just didn't work…"
"Tom's wearing a wig in that shot because he's got his [Part Two] hair. So keep in mind that any pickups and reshoots that we did after we started shooting Part Two, Tom's got a different hairstyle. He's wearing a wig in a lot of the movie. In the [food delivery scene] he's wearing a wig. And it's a sensational wig by our amazing makeup department."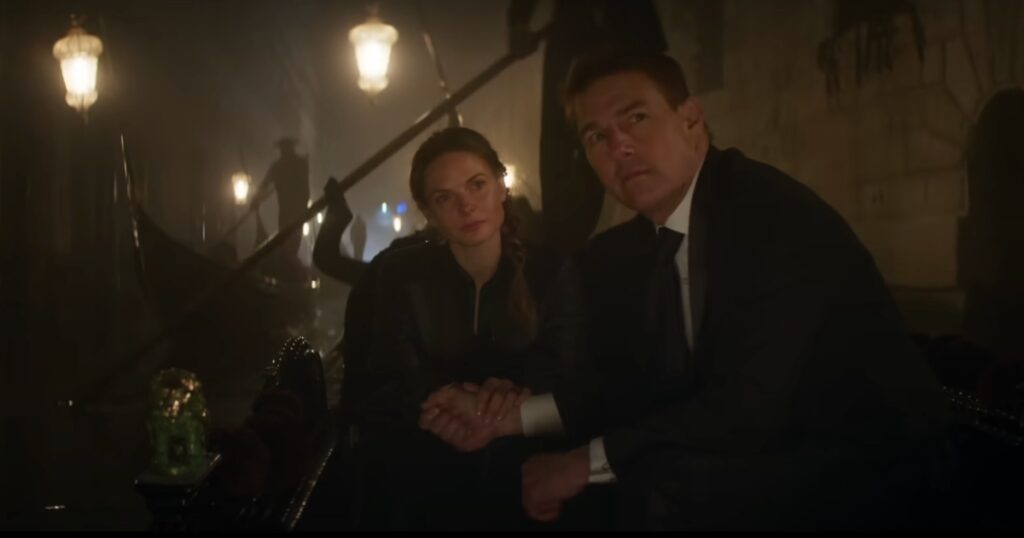 The Unorthodox Production Method Of Dead Reckoning
In the initial planning of "Mission: Impossible – Dead Reckoning Part One", the crew realized the story's magnitude was beyond just one film. A double production was required, which not only presented logistic challenges but was further complicated by the pandemic and the unique approach to filming adopted by McQuarrie and Cruise.
Rather than adhering strictly to a script, "Mission: Impossible" prefers a more organic process. The director and the star work collaboratively with actors to mold their characters. They allow locations and stunt concepts to shape the storyline. This dynamism can sometimes lead to late-stage narrative changes, prompting reshoots or scene adjustments. This fluid approach is further refined through the extensive use of test screenings.
For instance, Cruise reciting the IMF vow in the opening of the film was a late addition. As a result, he already had his extended "Mission: Impossible 8" haircut. McQuarrie's revelation about Cruise's wig-wearing scenes is bound to have fans eagle-eyed during future "Mission: Impossible – Dead Reckoning Part One" viewings.
Source: Empire Spoiler Specials/ Spotify
Upcoming Release
– Mission: Impossible – Dead Reckoning Part Two